There were tons of online exam tools in the market, selecting the best one is not like hook fish. You must consider so many features that must really improve your students education skills. In this article I am going to explain major features that are available in Skill Evaluation Lab for educators to conduct online exams.
Introduction to Skill Evaluation Lab
The best online exam software that has crossed more than 10 years and keep moving step ahead from all other education tools.
What an educator can do with Skill Evaluation Lab?
Conduct practice tests in LAN/Internet
Conduct quiz tests in any network
Conduct mock exams
Assess candidates skills
SMS alerts to candidates
Email alerts to candidates
Access anytime, anywhere (PC, Laptop, Tablet, Mobile)
Group candidates
Report under group level
Measure overall weak areas
Measure individual weak areas
Can replace paper based writing exams
More accurate results
Time saving
Cost saving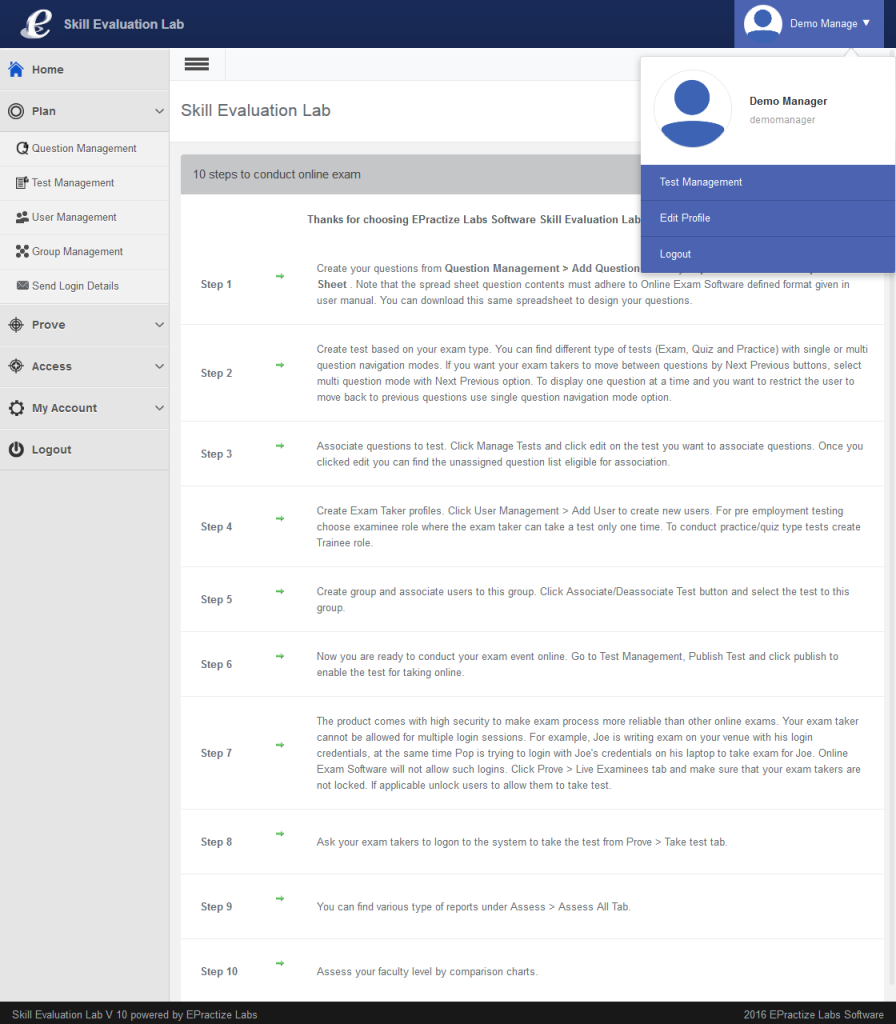 Technical requirements:
This tool installation is as simpler than installing a game on your PC.
Server Requirements:
Skill evaluation lab was developed based on Java EE technology. So it can run on any Java supported OS like Linux, Windows or MAC. You can easily move from one server to another server by simple copy & paste. It can not take more than 5 minutes to setup Skill Evaluation Lab server on your network.
Client Requirements
An educator or student can access from any devices. The Skill Evaluation Lab support all latest desktop and mobile browsers. Educators can encourage their students to take mobile exams via MyExamCloud mobile App.
Exam Management features for Educators
Question Management
Skill evaluation lab support 6 different types of question with text editor. The product comes with brilliant question editor to support text (any language), image, mathematics equation or special symbols .
A Question has properties like topic name, scenario, question, answer choices and explanation. We can set the score, difficulty level and time-limit for each question.
Any question can be easily editable or cloned(duplicate) for reuse. The question management comes with different search filters like test name, topic name ,question type, difficulty level, etc.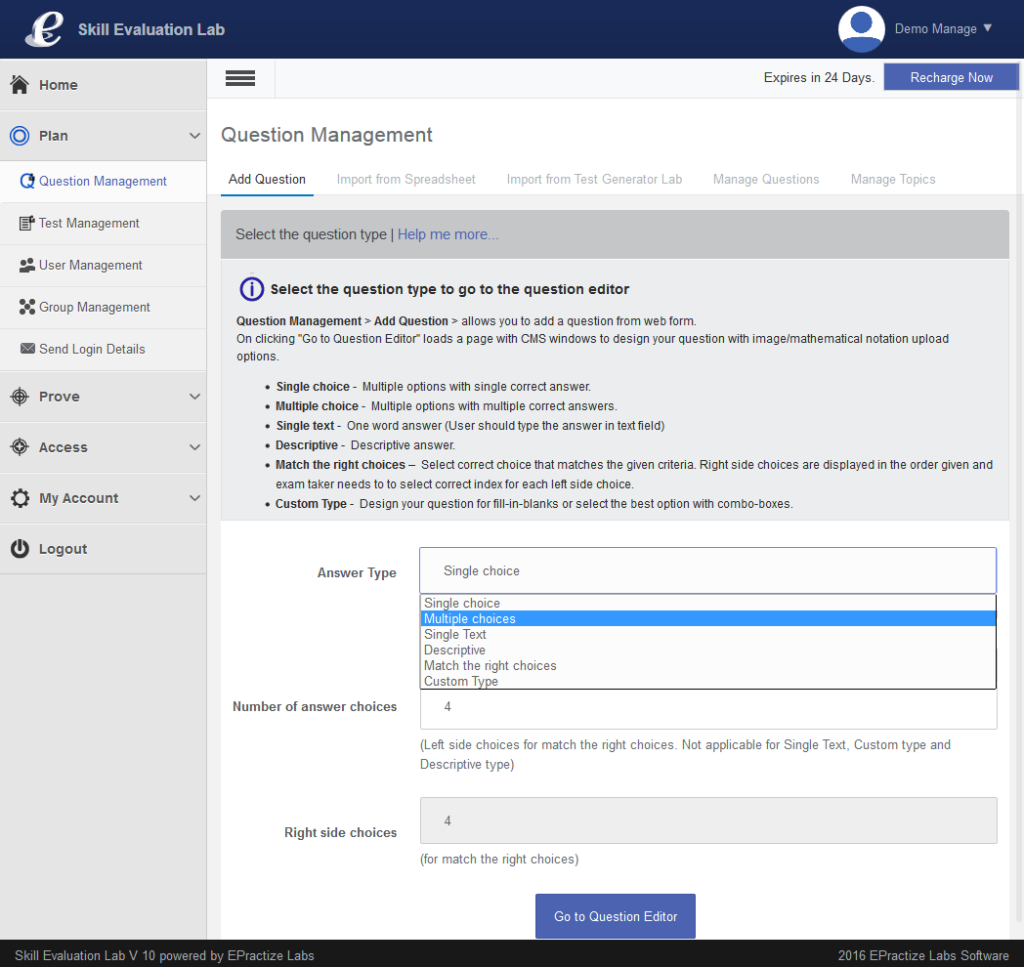 Educators can simply prepare their questions in Microsoft excel sheet or word document and upload in Skill Evaluation Lab.
Test Management
The Skill Evaluation Lab supports three type of tests 1. Practice 2. Evaluation and 3. Quiz. The final results can be either shown to exam takers or restricted based on educator settings. Each mode has different navigation and question display with timer. The UI (User interface) for each exam screen may vary according to test type and navigation mode.The following screens shows different exam types of Skill Evaluation Lab tests .
Mode: Exam, Practice, Quiz (Sample Take Exam Screen Practice Mode)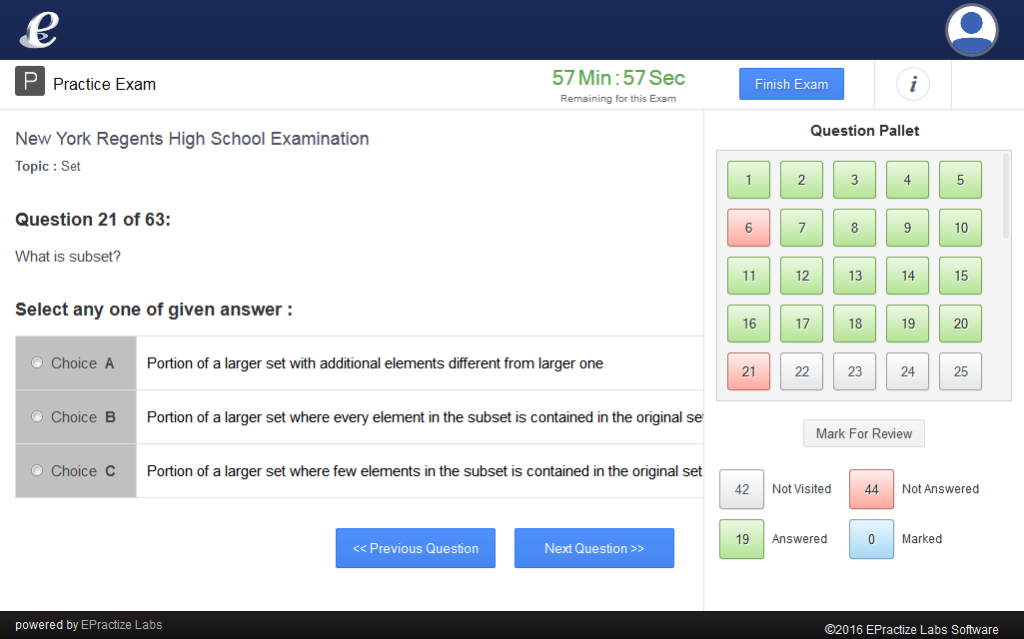 User Management
The Skill Evaluation Lab components are strictly protected by roles. There are five different roles:
Examinee – Mimics the real exam taker and suitable for evaluation exams like employee assessment, interview exams, pre/post employee assessment.
Trainee – Training candidate to prepare with practice and quiz exams.
Manager – Mimics the real educator. Manager can manage tests, questions, users, groups and access all reports.
Print Manager – This is optional role. In rare cases (due to power failure or network outage) if we need to conduct paper based exam; we can print out for entire test as a question sheet and also answer sheet for manual evaluation.
Report Manager – This role for supervisors, who only want to know the report for entire organization / deportment. This role can be suitable for Parents to view reports for kids.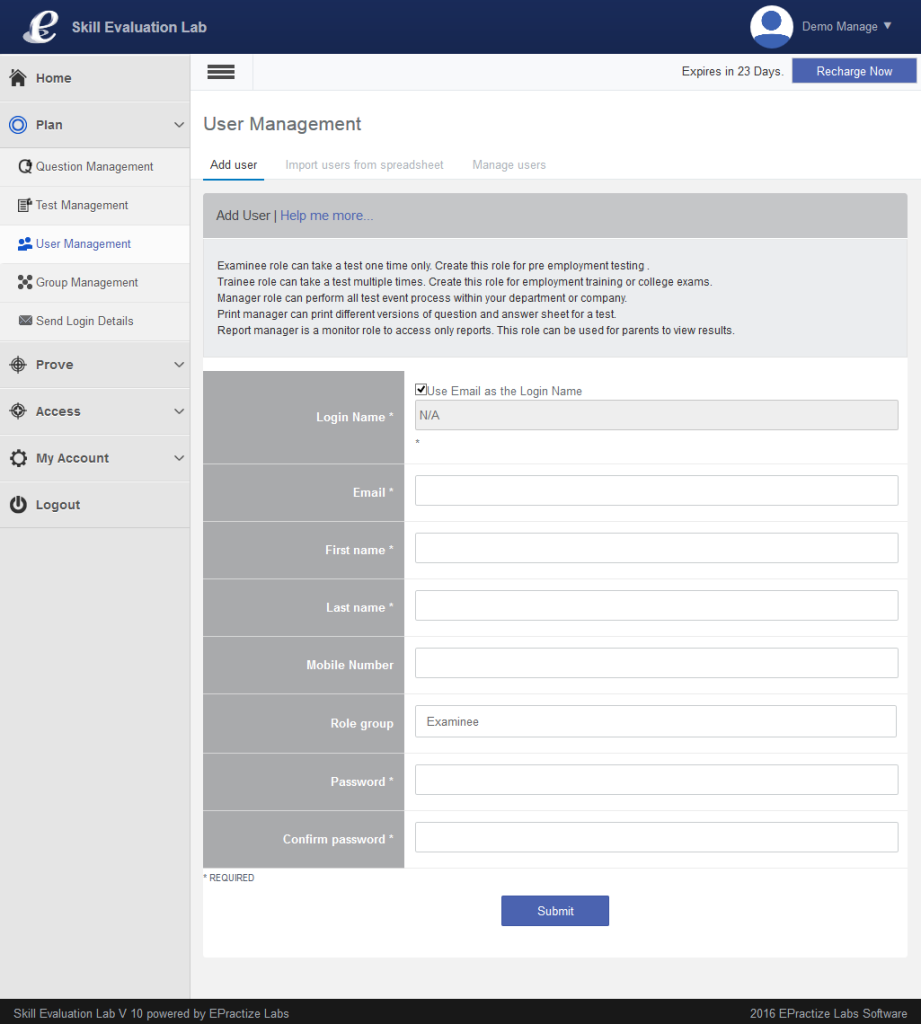 You can also support to import large amount of Users along with their name, email, email, password and associated groups at a time by certain pre-formatted microsoft excel document.
Group Management
Educator can group number of users based on their deportment or classes.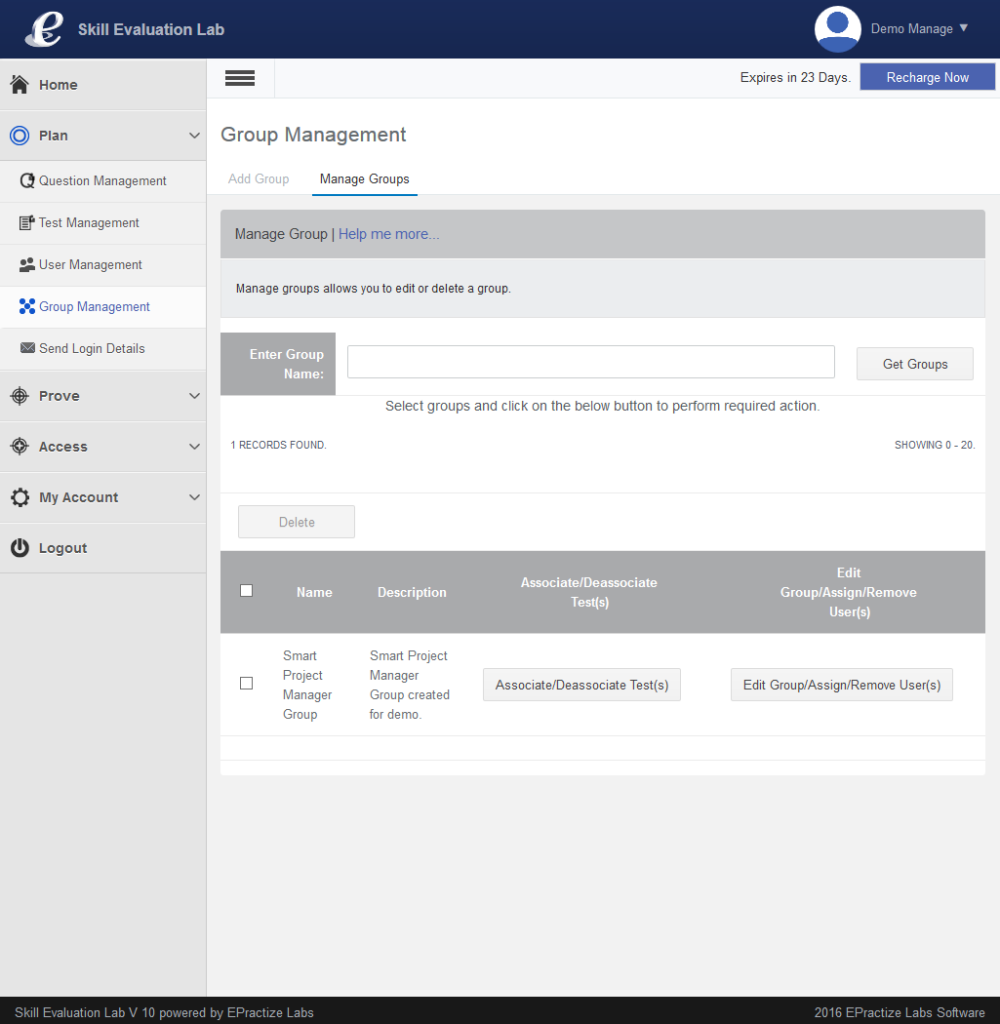 Send Login Details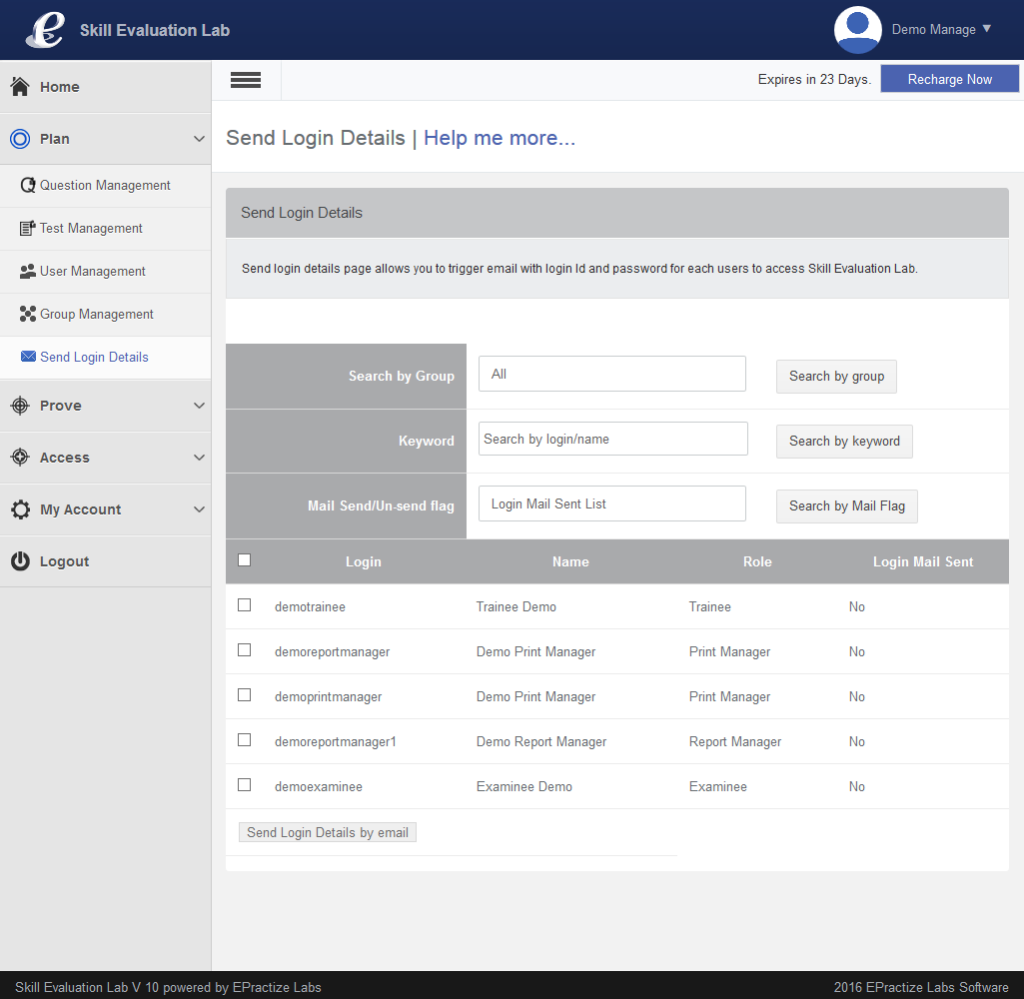 Generate random password for each user and send login details by email.
Monitoring Users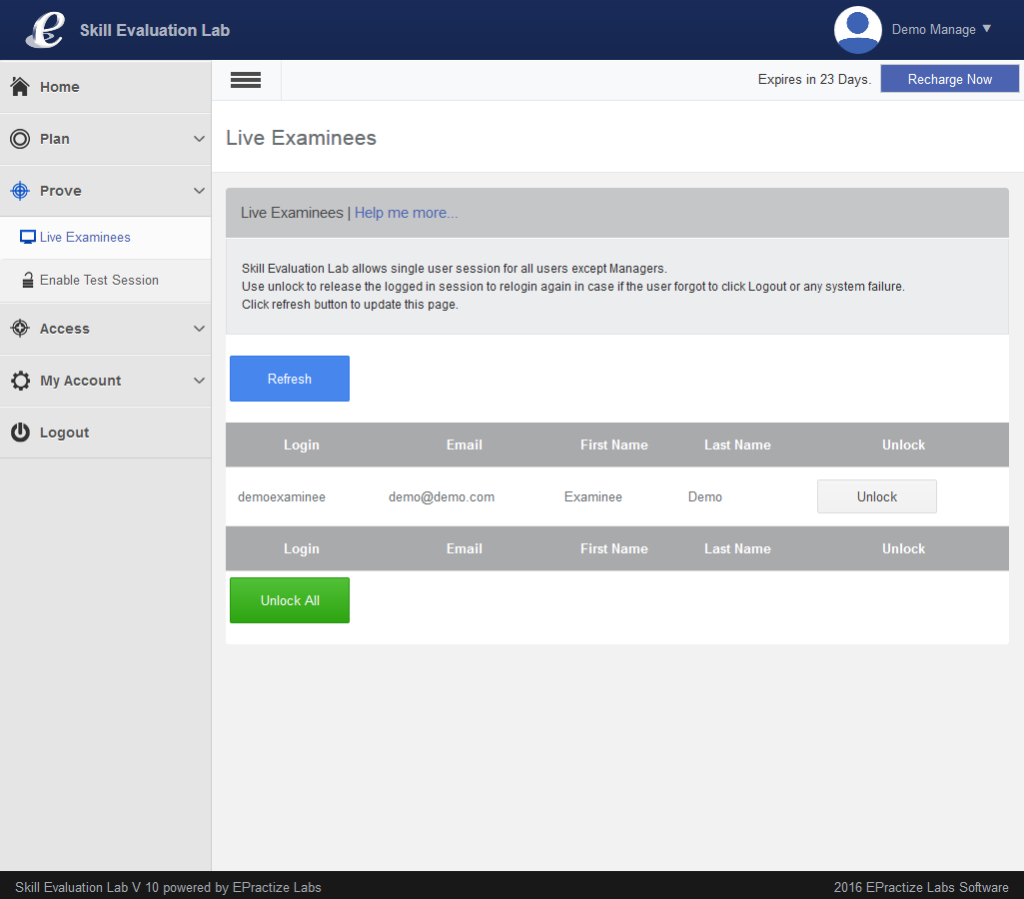 Manage Test Session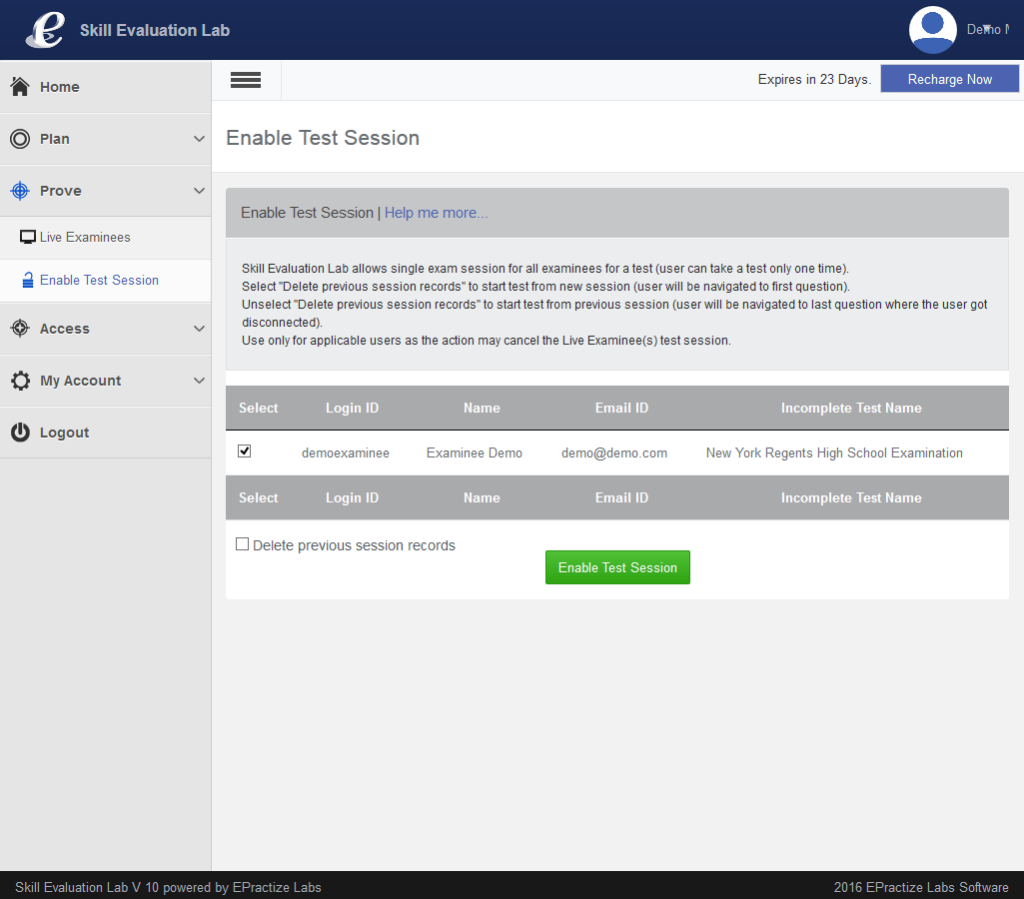 Access (Reports/Users/Tests)