The PMP® exam is harder than most, requiring extensive preparation with PMBOK guide, prep books, online exam simulators, to pass. It is one of the fastest growing certifications worldwide and it has been recognized in all industry type. You can master the entire PMP® syllabus by well defined study plan. This article explains a systematic approach to tackle the PMP® certification exam.

Top 10 PMP Preparation Tips
Tip #1: Collect Good Study Materials
Before beginning your PMP preparation, collect the study materials that you have planned to cover. Your study resources includes Project Management Body of Knowledge (PMBOK® Guide), PMP prep book, PMP Practice Tests and PMP flash card/study notes. The method of organizing (which one to study first) your study resources also makes it easy for you to arrange information in a systematic and sensible order in your mind.
Tip #2: Study and Motivate yourself
Set goals for your preparation and achieve your milestone. By this way you can motivate yourself in PMPexam topics. The MyExamCloud Exam Dashboard goals tracker is good for tracking your practice tests milestone.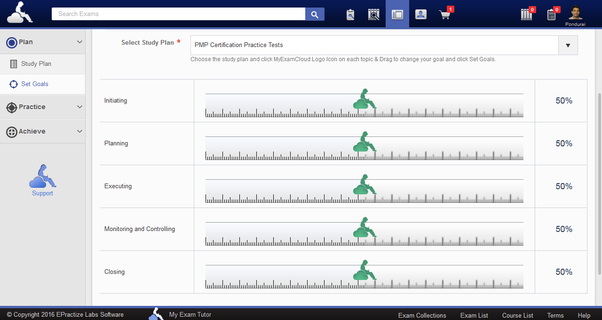 Tip #3: Do more Research on Exam Syllabus
Before you started learning a topic, make a list of queries in your mind related this topic. Doing this will transform you from a passive reader to an active researcher, which may be very helpful when you study the PMBOK® Guide.
Tip #4: Make a PMP Study Plan
Make a plan to study at least one Knowledge Area of the PMBOK® Guide every week.
Note that other study guides will often rehash the content and present the same topic from a different angle, so begin with the Guide itself and then move on to other study material.
Further, break down the Knowledge Areas of the PMBOK® so you study one process a day.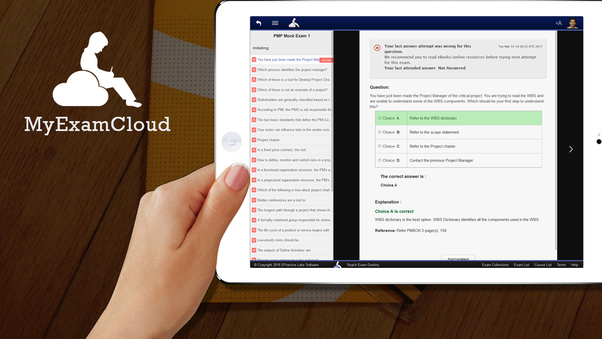 Tip #5: Understand PMP Exam Question Types
The 200 multiple choice question paper will include the following question types:
complex situation questions
short situational questions
formula based questions
knowledge based questions
interpretive questions
Specific Technique questions
Tip #6: Practice with PMP Exam Questions
Note that PMP® exam questions will test how well you can apply these concepts, principles and ideas. Many questions are situational descriptions of a problem. So it is not enough to just completing PMBOK®. Put in the effort to understand concepts well by practicing with PMP Mock Exams, and study them with focus. The focus lab presented in MyExamCloud shows your pinpoint areas to improvise your PMP exam skills.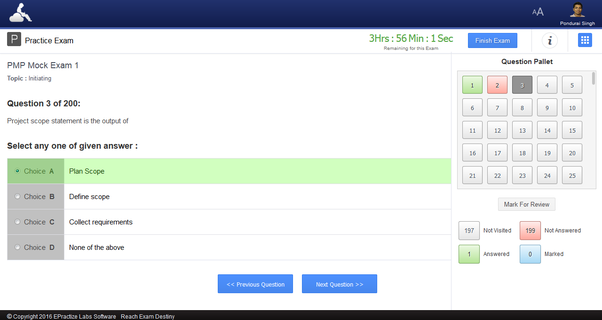 Tip #7: Get at least 90% in PMP Practice Tests
The PMI® does not tell you how many questions you must answer to pass the exam. People assume it to be 61%.
To know whether you are ready for real exam set 90% goals on PMP Mock Tests. While doing your sample practice tests, continue to work hard until you can answer at least 90% of the questions correctly. The goals tracker at MyExamCloud is good to track your 90% milestone against exam objectives.
Tip #8: Spend more time on study
Carry your study materials wherever you go, so you can open them up at any opportunity. Most of the PMP Practice Tests are accessed from your mobile phone as well, so take mock exams whenever you find time.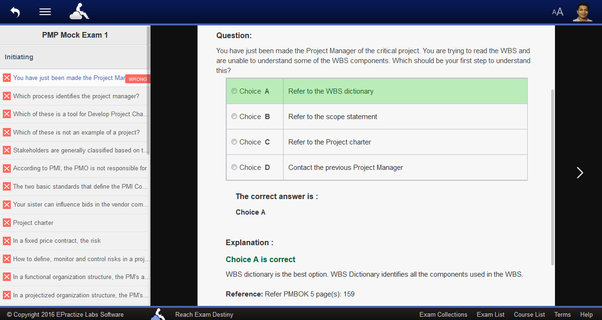 Tip #9: Join in PMP Study Groups and discuss
Join a PMP® exam study group and follow the study plan of your group members. Discuss more about your weak areas and improve your knowledge.
Tip #10. Finish with the PMBOK® Flash Cards and Practice Exam.
During your last few study sessions, review the PMBOK® Flash Cards. Take few mock exams and check your answers, and learn from your mistakes one last time.